Explore the Grand Canyon Caverns on Historic Route 66
Inn · Restaurant · Cavern Tours · RV Park/Campground · Havasupai Check-In
Visit the Largest Dry Caverns in the U.S., located 21 stories underground!
The Grand Canyon Caverns were created over 65 million years ago, formed within the limestone that was once the bottom of an ancient inland sea that divided North America. The Grand Canyon Caverns are several miles to the east of Peach Springs, AZ. They are the largest the dry caverns in the U.S., where guests can tour, stay, and dine!
tours currently unavailable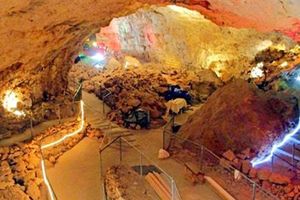 Caverns Guided Tour
Experience 65 Million Years Of History!
The tour begins with an elevator ride that takes you 200 feet underground. Handrails, paved walkways, stairs, and mild inclines make the 3/4 mile long tour suitable for all ages.
Approx. 45 minutes.
$24.95 Adults, $21.95 Seniors
$15.95 Children 6+ (Ages 6 & under are free!)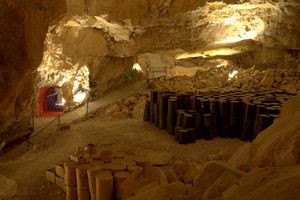 The Explorer Tour
Let Your Inner Spelunker Shine!
We provide lights, elbow and knee pads, helmets, and a guide to take you around the parts of the Cavern that many people don't get to explore. You must be physically fit to climb and crawl through the waterways.
Approx. 2 hours.
$99.00 per person.
Reservations required.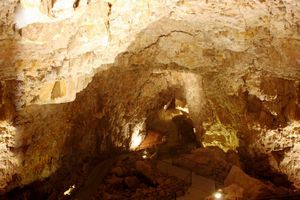 The Wild Tour
A Challenging Adventure!
Descend down and through the Mystery Room and past the last light in the Cavern. Only your head lamp breaks the darkness as your guide leads you up, down, in, around and through, the secret back passages of the Grand Canyon Caverns.
Approx. 2.5 hours.
$125.00 per person.
Reservations required.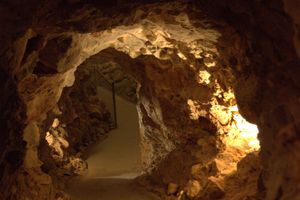 The Ghost Walk Tour
A Truly Ghostly Experience!
Join us when we turn all the LIGHTS OUT! And go in search of the SPIRITS that haunt the Caverns — if you're not afraid of the dark!
200 feet underground
$39.00 per person.
Reservations required.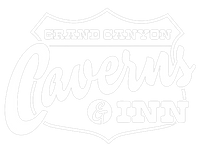 Book Your Visit
Open 7 Days a Week – 9:00 a.m. to 5:00 p.m.
Located on Historic Route 66, Mile Marker 115 Peach Springs, Arizona, 86434
Just West of Seligman, AZ and East of Kingman, AZ